Recommended Global Neuroscience Conferences
Asia Pacific & Middle East
Neuroscience 2020
About Conference
Neuroscience 2020 which is scheduled during September 21-22, 2020 at Berlin, Germany. The main theme of our conference is "Breakthroughs and Achievements in Neurocognitive Research" which covers wide range of critically important sessions. It's a platform to bring all the neuroscientists together to share their experiences it's the amalgam of scientific research as well as innovative ideas.
| Title | Dates | Venue |
| --- | --- | --- |
| 35th International Conference on Neuroscience and Neurochemistry | September 21-22, 2020 | Berlin, Germany |

Neurological disorders are diseases of the central and peripheral nervous system. In other words, the encephalon, spinal cord, cranial nerves, peripheral nerves, nerve roots, autonomic nervous system, neuromuscular junction, and muscles. These disorders include epilepsy, Alzheimer disease and other dementia, cerebrovascular diseases including stroke, migraine and other headache disorders, multiple sclerosis, Parkinson's disease, neuroinfections, encephalon tumours, traumatic disorders of the nervous system due to head trauma, and neurological disorders as a result of malnutrition.
Many bacterial like Mycobacterial tuberculosis, Neisseria meningitides viral infections like Human Immunodeficiency Virus , Enteroviruses, West Nile Virus, Zika virus and parasitic infections such as malaria, Chagas can affect the nervous system. Neurological symptoms may occur due to the infection itself, or due to an immune response.
Hundreds of millions of individual around the globe are affected by brain disorders. More than 6 million people lose their lives because of stroke each year; over 80% of these deaths take place in underdeveloped countries. More than 50 million people have seizures worldwide. It is estimated that there are worldwide 47.5 million people with dementia with 7.7 million new cases every year - Alzheimer's disease is the most common cause of dementia and may contribute to 60–70% of cases. The prevalence of migraine is more than 10% worldwide.
Young Scientist Benefits:
Our conferences provide best Platform for your research through oral presentations.
Share the ideas with both eminent researchers and mentors.
Young Scientist Award reorganization certificate and memento to the winners
Young Scientists will get appropriate and timely information by this Forum.
Platform for collaboration among young researchers for better development
Award should motivate participants to strive to realize their full potential which could in turn be beneficial to the field as whole.
Deadline for Registrations:
Till December 30, 2019 – $399
Till January 30, 2020 – $449
Till February 28, 2020 – $499
Market Analysis
Neurology focuses on broad array of disorders and cure of brain and connecting neurons. According to the latest survey conducted by WHO, it is revealed that Neurological Disorders encompassing Stroke, Alzheimer & Dementia, Epilepsy and many more accounts for more than 12% of deaths worldwide on an average and it is also predicted that the number of disability –adjusted life years vanished due to Neurological disorders are expected to accelerate from 95 million globally in 2015 to 103 million by 2030.Moreover, the worldwide cost of neurological squeal solitary estimated in 2010 was US$ 2.5 trillion and it is assumed that the value will spike to over US$ 6 trillion by 2030.
Over the past 25 years, the burden of neurological disorders has been increased substantially. Neurological disorders are the leading cause of death and disability in the world today. The most prevalent neurological disorders were:
Headache Cases (about 1,500 million)
Migraine (about 1,000 million)
Medication overuse headaches (about 60 million)
Alzheimer's disease and dementia (about 46 million)
Between 1990 and 2015, the number of deaths from neurological disorders increased by 36.7%, and the number of DALYs by 7.4%. The rates of cases per 100,000 people increased in Parkinson's disease (by 15.7%), Alzheimer's disease (2.4%), motor neuron disease (3.1%), and brain and nervous system cancers (8.9%). Higher rates of prevalence of neurological disorders in rural areas, 6-8 million people with epilepsy and high case fatality rates of stroke (27-42%) call for urgent strategies in India
The global neuroscience market was valued at around USD 26,350 million in the year 2016 and it is expected to reach approximately USD 34,800 million by 2024. The global neuroscience market is expected to exhibit a CAGR of more than 3.5% between 2017 and 2024.
Importance & Scope:
Neurology today holds a position in the various medical centers of the world which varies from complete nonexistence to high and complex development. Invasion of the field of neurology by different types of clinicians, the rapid development of psychiatry, the late appearance of neurosurgery and the important recent advances in neurophysiology and neuro-anatomy, all help to account for this variability and demand a reconsideration of the scope of neurology. A survey of neurology, neurosurgery and neuropathology as they are to be found in various centers of learning today supports this view. From the time that neurology first emerged as a specialty, it has suffered a progressive reduction in scope.
Neuromarketing Technology:
Neuromarketing is the incorporation of neuroscience with day to day market activities in order to identify and study consumer behavior and perception, based on cognitive and affective response to marketing inducements. The first step of neuromarketing includes the accumulation of information about how the target market would respond if a new product penetrates the market.
Neuroscience is beneficial in interpreting and studying the consumer perceptions and has played a vital role in enhancing behavioral predictions of consumers. Neuroscience allows research firms and marketing companies to concentrate and customize their services according to customer expectations. Accurate product positioning can be devised with the help of neuroscience to access the brain functions of the customer.
The neuromarketing technology is differentiated by technology, solutions, and end user. Based on technology, the neuromarketing technology market is sub-segmented into functional magnetic resonance imaging (fMRI), electroencephalography (EEG), Eye tracking, Positron emission tomography (PET), and magneto encephalography (MEG). Furthermore, the solutions segment is sub divided into customer experience, people engagement, and product development.
The global Neuromarketing technology Market is expected to reach USD 100 million by 2023 growing at a 12% CAGR over the forecast period 2017-2023.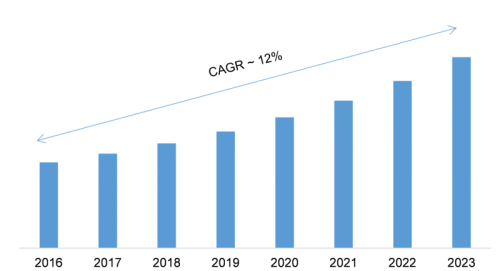 Neuromarketing technology is further divided on the basis of end user that includes retail, healthcare, food & beverage, and consumer electronics.
Regional Analysis:
Geographically, the neuromarketing technology is categorized into five different regions such as North America, Asia Pacific, Europe and the Rest of the World.
North America is expected to be a prominent region in the neuromarketing technology market over forecast period. The U.S. is the leading country in the region owing to increase in number of solution providers of neuroscience technology. However, the U.S has a highly advanced technological infrastructure which has made them early adopters of technology and has encouraged many companies to the study consumer behavior effectively. In the light of these factors, the neuromarketing technology market is anticipated to be driven over the review period 2017-2023. Europe is also estimated to have a significant growth in the neuromarketing technology market over the next few years. With compare to China and Japan, Asia Pacific is expected to emerge as the fastest growing regional market owing to the owing to constantly improving healthcare system and presence of significant target population in the region.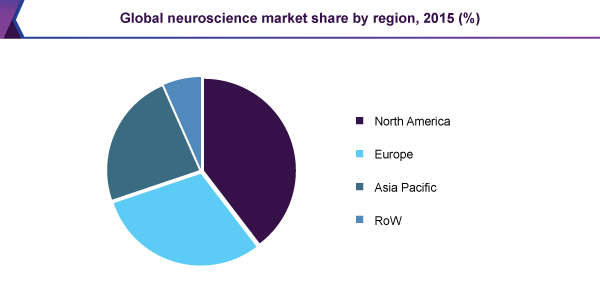 Market Growth of Neuroscience:
The global neuroscience market size was valued at USD 28.42 billion in 2016 and is expected to grow at a CAGR of 3.1% over the forecast period. High influencing factors, such as on-going brain mapping research and investigation projects, neuroscience-based initiatives by government bodies and technological advances in tools and algorithms that are implemented in neuroscience space are expected to propel the market growth.
Neuroscience Market size by technology 2012-2020 (USD Million)
Target Audience:
Directors, Neurologist, Neurosurgeons, Psychiatrist, Head of department, Professors and Students from Academia in the research of Neuroscience.
Academia 60%
Industry 30%
Others 10%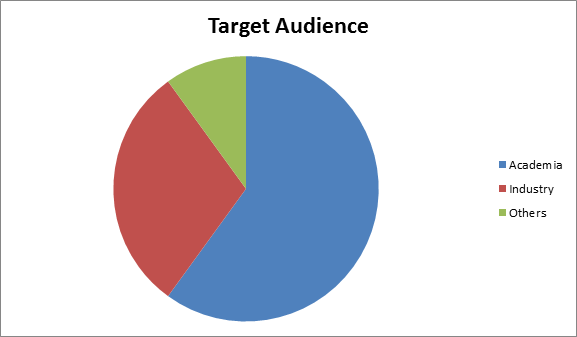 Related Associations and Societies:
The brain & behaviour research foundation
European Neurological Societies
Hilarescere Foundation in Italy
Italian MS society in Italy
Southern Clinical Neurological Society
ESNR European Society of Neuroradiology
Related Companies/Industries:
Siemens Medical Solutions USA, Inc.
Scientific Sessions
Neuroscience: It is merely subject which deals with nervous system, which conjoins different functions such as physiology, anatomy, molecular biology, developmental biology, cytology, mathematical modelling, and psychology.
Earlier it was studied by Egyptians and surgical practice was done by drilling or scrupling hole in skull.
Neurology: Conceptual visualization mainly on disorders of neurology which mainly involves central & peripheral nervous system. A neurologist is physician where they are specialised in investigation, diagnose or treat a neurological disorder.
It mainly highlights in therapies to improve such things workplace efficacy, attention in school, and overall happiness in personal lives.
Neurophysiology & clinical Neurophysiology
Neurophysiology: branch where physiology and neuroscience is conjoins for study of nervous system. Primarily it is studied in electrophysiological recording such as patch clamp, voltage clamp, and extracellular single-unit recording and recording of local field potentials.
Clinical Neurophysiology: Medical speciality where central and peripheral nervous system through record of bioelectrical activity whether spontaneous or stimulated majorly is diagnosed in
Neurosurgery: Concerned with prevention and diagnosis, surgical treatment. Some of the surgical methods are :
Spine: Made of three segments, when viewed from side they look like three natural curves. The "c-shaped" curves of the cervical spine and lumbar spine are called lordosis. The "reverse c-shaped" curve of the thoracic spine is called kyphosis.
Psychiatry and Psychology
Psychiatry: devoted to diagnosis, prevention and treatment of mental disorders. Mostly include various maladaptation's related to mood, behaviour, cognition, and perceptions.
Psychology: it is subject about behaviour and mind of human, where multifaceletated discipline includes human development , sports ,health & clinical behaviour and cognitive process.
This is pioneered by Wilhelm Wundt where mental breakdown has come into existence, and now it has higher rate of patience due modern technology and public issues
Neurochemistry & Neuropharmacology :
Neurochemistry : Flourishing field which includes molecular & cellular neurobiology. Its main criteria are to learn which in builds brain with chemical entities.
This explores glial cells & neurons in health and diseases.
Neuropharmacology: How drug affects nervous system? ADME process? This total criteria is present in this Neuropharmacology subject. Where it majorly includes behavioural & molecular function of the brain.
Where as it also includes neurochemical interaction : transfer of information from neuron to neuron.
Molecular neuropharmacology includes : study of complete neurochemical interactions.
Neurogenetic & neurometabolic disorders :
Neurogenetic : Defined as defect in one or more than one gene which effects differentiation & function of neuroectoderm.
Examples of the neurogenetic diseases are :
Huntington disease
spinobulbar muscular atrophy
autosomal dominant cerebellar ataxias
Neurometabolic Disorders : Is interlinked with Neurogenetic disorder where body produces energy from food. Where it majorly leads to epilepsy and abnormal movements of the body.
Includes major topics :
Central nervous system white matter disorders
Underlying genetic and metabolic disorders in the setting of mental retardation and epilepsy
Disorders of amino and organic acid metabolism
Lysosomal storage diseases.
Neuroimaging & Radiology:
Neuroimaging: It is direct or indirect pharmacology of brain where structure, function and pharmacology of brain will be viewed and examined.
It is broadly studied in two ways :
Structural imaging
Functional Imaging
Radiology: Medical devices which is used to take medical imaging to diagnose or take imaging of brain in internal and external way, for examination.
Past Conference Report
Neurology 2019
25th Cognitive Neuroscience Congress was organized during November 12-13, 2018 at Dubai, UAE. With the support and contribution of the Organizing Committee Members, we successfully hosted the event at the conference venue.
Firstly we must thank you for trusting us and participating at NeuroCognitive 2018, a global platform to discuss various important aspects of Neurology and Neuroscience.
There are infinite reasons to extend our gratitude to you for making the NeuroCognitive 2018 outstanding conference. We couldn't have done it without your continuous support and believe towards our organization, which mutually made to achieve NeuroCognitive 2018 new heights in the field of Neurology and Neuroscience.
The conference was marked by the attendance of young and brilliant researchers, business delegates and talented student communities representing more than 50 countries, who have driven this event into the path of success.
The conference was organized around the theme "Scientific gathering to unleash the new horizons in neurocognitive study". The event implanted a firm relation of upcoming strategies in the field of Neurology with the scientific community. The conceptual and applicable knowledge shared, will also foster organizational collaborations to nurture scientific accelerations. Alper İbrahim Dai, Gaziantep University, Turkey and Daniela Hristova, Simbec-Orion, UK was the moderators of NeuroCognitive 2018. We are much thankful to both of them for their great support and help.
The conference proceedings were carried out through various Scientific-sessions and plenary lectures of which the following Speakers were highlighted as Keynote speakers: Efthymios papatzikis, Professor of Educational Neuroscience Music and Sound, Canadian University, Dubai; Hadi Eltonsi, Cairo Unviersity, Egypt; Javier Fiz Perez, European University of Rome, Italy; Khurram Sadiq, Greater Manchester Mental Health NHS Foundation, UK; Jeffrey Rediger, McLean Hospital, USA; The conference witnessed an amalgamation of peerless speakers, Keynote speakers, well-known researchers and delegates who enlightened the crowd with their enviable research knowledge and on various alluring topics related to the field of Neurology through their fabulous presentations at the podium of NeuroCognitive 2018.
Conference Series LLC Ltd offers its heartfelt appreciation to all the Organizing Committee Members, Chairs and Co-chairs, Speakers, Students, Media Partners and Editorial Board Members of Journal of Neurology & Neurophysiology, Journal of Neurological Disorders and Journal of Spine who supported the conference in every aspect for the awe-inspiring exhibition at the venue.
We are also obliged to various delegate experts, company representatives and other eminent personalities who supported the conference by facilitating active discussion forums. We thank Shubhangi Gaikwad, Saudi German Hospital, UAE and Kanan khatau Chikhal, Life Cures Wellness Clinic, India for conducting workshop at our conference. We sincerely thank the Organizing Committee Members: Maite Ferrin ReCognition Health and Honorary Clinical Lecturer University of Southampton United Kingdom; SABAH AL-RASHED Neurosurgery Consultant Prince Sultan Military Medical City (PSMMC) Saudi Arabia; Mehdi Fathi Researcher and Trainer Mashhad university, Mashhad ,ISSCH Iran; Reza Nejat Former Assistant Professor of SBMU Bazarganan Hospital Iran.
So as continuation of NeuroCognitive 2018, we would like to heartily invite you to our upcoming 35th International Conference on Neuroscience and Neurochemistry scheduled Berlin, Germany during September 21-22, 2020.
We look forward to seeing your benign presence with active contribution and support to make this event successful once more.
Past Reports
Gallery
To Collaborate Scientific Professionals around the World
Conference Date September 21-22, 2020
For Sponsors & Exhibitors